Infused smoothies are a quick and easy way to get a jam-packed dose of your daily essential nutrients. Most of us have been lured into a smoothie store at least once in our lives, and if you're like me, it's tough to pass up those fresh ginger and wheatgrass shots. But, hold on. Believe it or not, those trips to smoothie joints, like Smoothie King and Jamba Juice may be adversely affecting your health. Recent reports have shown that many of the ingredients in those smoothies aren't fresh nor are they good for you. Not too mention, their smoothies don't contain cannabinoids, either! So how do you get your daily nutrients - and cannabinoids - in one place without spending a million bucks?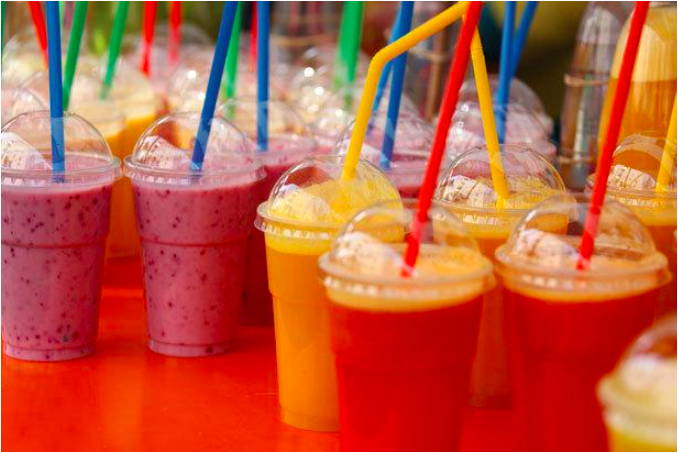 You don't have to go any further than your kitchen to blend up killer cannabis-infused smoothies! Making shakes at home is a great way to keep food cost down and your spirits up! They give your body what it needs to combat chronic pain, fatigue, and even keep blood sugar levels where they're supposed to be. Preparing cannabis smoothies at home is super simple and also solves the problem of medicating before work! No need to worry about that cannabis smell! Infused smoothies can be enjoyed on the way to work without the worry.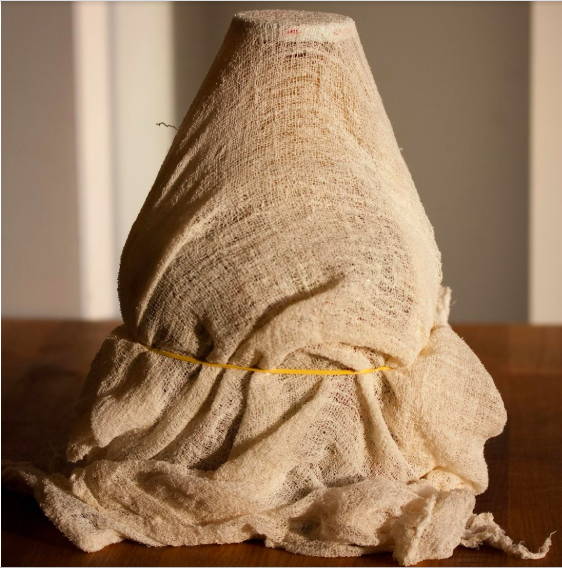 To quickly add cannabinoids to your shake, I suggest using infused coconut oil. Just remember, unless you're into chunks in your shake, you'll want to melt the oil first. As a reminder, NEVER microwave cannabis-infused foods! Heating should be done with the adage, "slow and steady" in mind. The best method is, of course, the natural way. Put one teaspoon of solid infused coconut oil into a container and cover with cheesecloth or a clean hand towel. Use a rubber band to ensure it's sealed and allow it to melt naturally. Because I live in the Mojave Desert, this process only takes a few moments on most days! For colder climates, put the desired amount of oil in a container in hot water until fully melted.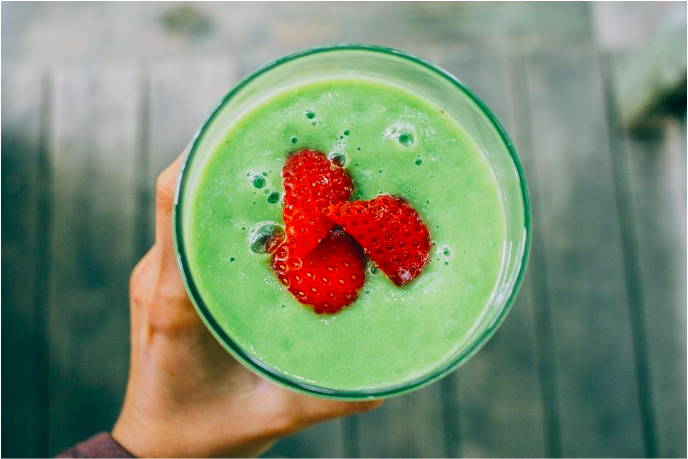 Once your oil has melted, it's time to choose your ingredients. Fruits and veggies can be pre-cut and put into storage containers for easy grabbing and less rotting. I'm notorious for buying fruits and vegetables with the intention of preparing healthy meals, only to throw out their rotten carcasses later. Freezing helps prevent unnecessary waste while reducing prep time. Replace dairy milk with nut or coconut milk for extra health benefits. Coconut also helps mask the flavor of nutrient-rich foods, such as spinach and beets, giving them a sweet tang that's a bit more pleasing to the palate.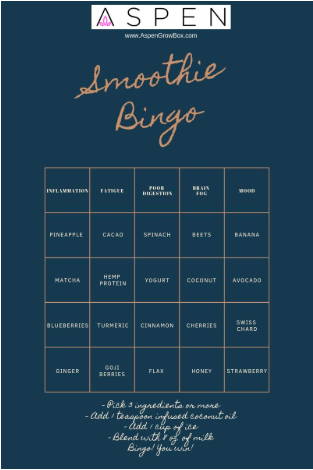 The phrase, "food medicine" will become a regular part of your vocabulary after becoming a smoothie chef in your kitchen. For example, a shake that includes ginger, coconut milk, and strawberries is not only tasty but also aids in the fight against depression and inflammation. Building a power-packed shake to get you through your day is a snap when you know which ingredients to choose.
Follow our easy to use Smoothie Bingo guide to make power-packed healing shakes that'll surely make your home-growing experience even more exciting. Mixing and marrying ingredients in your blender is a fun and healthy way to start your day off the right direction!