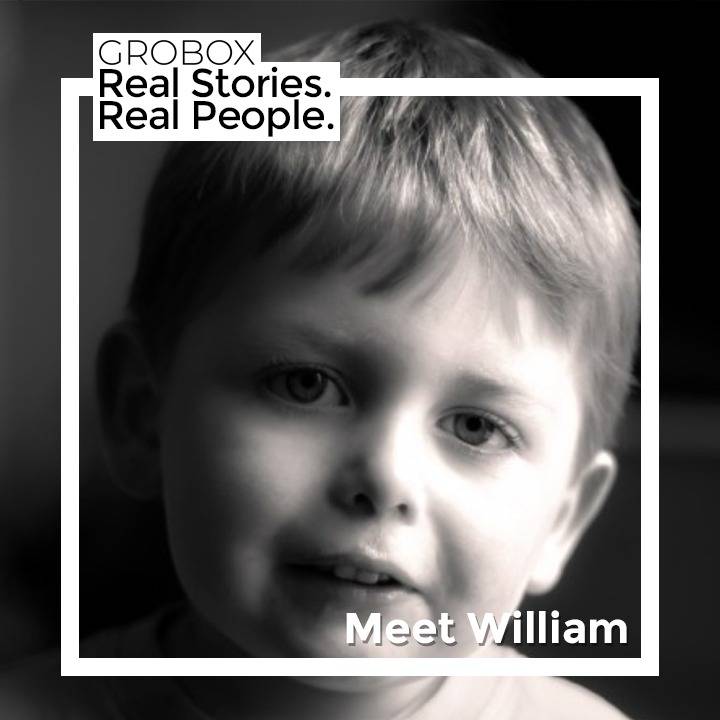 This interview was made possible by William's father Stephen Frost.
It's not really possible to describe how it feels to find out your child has a terminal illness. We have no idea how he may have acquired his tumor – the medical establishment don't have a cause for his particular type (or for any pediatric brain tumor as far as I'm aware) and there were no prior medical circumstances which we're aware of that may have caused it.
The first symptom we became aware of was a head tilt – William started to walk with his head slightly to one side and started to stumble when moving around. There then began episodes of sickness. We later found out that the tumor was affecting his sense of balance.
What did you feel when you first found out about William's tumor?
Devastated
What was your reaction when the Doctor's told you that he's only got a few months to live? That there must be something else we can do.
How did you end up finding out about cannabis or cannabis related products as medicine? Was using this your last resort?
We came across a Youtube Film called Project Storm which followed several patients through their experience of using cannabis to treat their cancer. Because we were wary of doing anything illegal, we weren't willing to give him straight cannabis plus we were conscious of the potential long term effects of THC – especially on a developing mind.
As a result, we did more research and came across the website of a parent who had used a Synthetic CBD with promising initial results. We made contact with the private clinic that they had purchased the oil from and, following an initial consultation, we were offered a prescription and decided to pay for in initial 9 month supply.
Can you tell us about your experience in acquiring CBD products for William? Was it difficult? Did you have any problems getting ahold of it?
Purchasing the Synthetic CBD is expensive although so far that has been the main obstacle. We're well aware of the fact that CBD can be derived from Hemp legally and that there are supposed benefits from consuming a greater variety of what the plant has to offer, but we just know what appears to have worked for William – after three months of starting on the CBD and putting him on a strict Ketogenic Diet, we started to notice signs of improvement – his next scan showed a 2/3 reduction so we didn't feel as though we could do anything else.
Do you have any regimen (dosage, diets, edibles) that you follow that you like to share?
With regard to dosage I don't think it would be helpful to discuss specific amounts since I think there are a wide variety variables to consider – age, weight, etc of the consumer and what product, specifically, is being used. All I would say is that we give it for three days then have a three day break – there is evidence to suggest the break leads to the cell cycle giving rise to the death of cancer cells
What is your advice to those using CBD and those that are hesitant to use it?
Luckily we have not had to look into other products but from what I've read it's important to go with a trusted source and don't be afraid to ask for test certificates. Synthetic CBD appears to have worked for us but I firmly believe that other Cannabinoids (in addition to CBD) and other elements of the plants can help – specifically, I believe that different cancers respond differently to different Cannabinoids etc. With regard to anyone who is hesitant, all I'd say is what have you got to lose – especially with something like a completely legal synthetic CBD.
And lastly, How did using cannabis oil change your life?
So far more than we could have hoped for although more research needs to be done. Although William has had around 1.5 years of stable scans since the initial reduction, we all too well aware of how aggressive his tumor type is. We're continually pushing for additional research so that other people can benefit and so that we can properly understand what gave rise to William's tumor reduction with a view to making sure that it does not come back.